About the Cyber Centre
The Canadian Centre for Cyber Security (Cyber Centre) is Canada's authority on cyber security. As part of the Communications Security Establishment (CSE), the Cyber Centre is a growing organization with a rich history. The Cyber Centre brought operational security experts from across the Government of Canada under one roof. In line with the National Cyber Security Strategy, the Cyber Centre represents a shift to a more unified approach to cyber security in Canada.
We are trusted experts in cyber security with a straightforward, focused mandate to collaborate with government, the private sector, and academia. We are builders, creators, developers, researchers, and scientists. We work to make Canada a safer place to be online.
We Help Keep Canada and Canadians Safe in Cyberspace by:
Being a clear, trusted source of relevant cyber security information for Canadians, Canadian businesses, and critical infrastructure owners and operators;
Providing targeted cyber security advice and guidance to protect the country's most important cyber systems;
Working side by side with provincial, territorial, and municipal governments, and private sector partners to solve Canada's most complex cyber challenges;
Developing and sharing our specialized cyber defence technology and knowledge;
Defending cyber systems, including Government of Canada networks, by developing and deploying sophisticated cyber defence tools and technology;
Leading the Government's operational response during cyber events by using our expertise and access to provide information immediately useful for managing incidents.
Cyber defence is a team sport. Our unique advantage helps make Canada more resistant to cyber threats and more resilient during and after cyber events.
Learn more by visiting Cyber.gc.ca, or follow us on Twitter @Cybercentre_ca
---
Minister's foreword
Cyber security is one of the most serious economic and national security challenges we face. Defending Canada and Canadians against cyber threats is a shared responsibility and a team effort. For anybody who thinks cyber security doesn't concern them, I would urge them to read this report.
I am grateful to the team at the Cyber Centre for this timely assessment. By sharing their insights, they are making sure policymakers, business leaders and individual Canadians have the right information to counter these threats effectively.
We know that Canadians are among the most connected populations, and the COVID-19 pandemic has only increased and reinforced our reliance on the internet. As we see almost daily in the headlines, cyber attackers are finding ever more sophisticated ways to exploit our connectivity.
Cyber threats are threats to the privacy, financial security, and even the personal safety of Canadians and the viability of Canadian businesses. "Cyber" just describes the delivery mechanism.
The Cyber Centre's unified approach to cyber security, which builds on Canada's already world-class cyber security expertise, can help Canadians rest assured that their government is prepared to meet the cyber security challenges of tomorrow, today.
The key findings of this report from the Cyber Centre are a timely reminder not to let our guard down.
We are seeing a proliferation of cyber threats, as sophisticated cybercriminals sell their tools and talent through illegal online markets.
Foreign state-sponsored cyber programs are probing our critical infrastructure for vulnerabilities.
Foreign efforts to influence public discourse through social media have become the "new normal".
More than that, the Internet is at a crossroads, with countries like China and Russia pushing to change the way it is governed, to turn it into a tool for censorship, surveillance, and state control.
By continuing to work with partners in government, business, and everyday Canadians, we can build a stronger, more cyber-resilient Canada.
Honourable Harjit Sajjan
Minister of National Defence
Table of contents
Message from the Head of the Cyber Centre
It has been two years since the release of Canada's first National Cyber Threat Assessment 2018 (NCTA 2018), and during that time, much of what was predicted in 2018 has come to pass. The National Cyber Threat Assessment (NCTA 2020) comes at a time when Canadians and the Canadian economy have increasingly shifted their activities online, a shift that was made more rapid by the onset of COVID-19.
The COVID-19 pandemic has illustrated the extent to which the Canadian economy is reliant upon digital infrastructure. With a sudden increase in the number of Canadians working from home, the protection and security of cyber and telecommunications infrastructure, hardware and software, and the supply chains that support them, is critical to national security and economic prosperity. It is core to our daily lives and, in many cases, the digital infrastructure underpinning our society is out of view and hidden from most Canadians.
This document is not intended to review the NCTA 2018. Some predictions were accurate, others arrived at different speeds. It is said that hindsight is 20/20 and I challenged our assessment teams in 2018 and, again this year, in 2020, to be bold and make predictions. Only the future will tell if our predictions are accurate but they are informed by the full extent of CSE's expertise and knowledge of what is happening in the Canadian and worldwide cyber environment and leverage all sources of information both classified and available openly.
The NCTA is the foundation for many of the activities of the Canadian Centre for Cyber Security (Cyber Centre). The NCTA is intended to set our priorities. We work to address the threats outlined in this report and increase the overall cyber security baseline of Canada. But we don't do it alone. A good example of this approach is the partnership with the Canadian Internet Registration Authority (CIRA) and the launch of their Canadian Shield service. This service, made free to every Canadian by CIRA, can, if used, directly reduce the impact and reach of cybercrime, such as ransomware. Succinctly, it is a direct response to the statement in the NCTA 2018 that the threat most likely to impact Canadians is cybercrime.
But the last two years have also shown that doing the basics of cyber security matters. The vast majority of cyber incidents in Canada occurred because basic elements of cyber security weren't followed. For Canadians, you can rely upon GetCyberSafe.gc.ca to provide simple, realistic, and achievable steps to make yourself more secure. If you are a Canadian not-for-profit, business of any size, or another level of government you can find information at cyber.gc.ca. We each need to do our part to make Canada more secure.
I hope you find NCTA 2020 informative and it spurs every Canadian to take even a single action to make themselves more secure. Each step contributes to our vision of a Secure Digital Canada.
Scott Jones
Head, Canadian Centre for Cyber Security
Executive summary
Canadian individuals and organizations increasingly rely on the Internet for daily activities. In a COVID-19 context, this trend has accelerated to enable Canadians to work, shop, and socialize remotely in accordance with public health physical distancing guidelines. However, as devices, information, and activities move online, they are vulnerable to cyber threat actors.
Cyber threat actors pose a threat to the Canadian economy by exacting costs on individuals and organizations, notably through the theft of intellectual property and proprietary information. They threaten the privacy of Canadians through the theft of personal information, which facilitates additional criminal behaviour including identity theft and financial fraud. As physical infrastructure and processes continue to be connected to the Internet, cyber threat activity has followed, leading to increasing risk to the functioning of machinery and the safety of Canadians.
Key judgements
The number of cyber threat actors is rising, and they are becoming more sophisticated. The commercial sale of cyber tools coupled with a global pool of talent has resulted in more threat actors and more sophisticated threat activity. Illegal online markets for cyber tools and services have also allowed cybercriminals to conduct more complex and sophisticated campaigns.
Cybercrime continues to be the cyber threat that is most likely to affect Canadians and Canadian organizations. We assess that, almost certainly, over the next two years, Canadians and Canadian organizations will continue to face online fraud and attempts to steal personal, financial, and corporate information.
We judge that ransomware directed against Canada will almost certainly continue to target large enterprises and critical infrastructure providers. These entities cannot tolerate sustained disruptions and are willing to pay up to millions of dollars to quickly restore their operations. Many Canadian victims will likely continue to give in to ransom demands due to the severe costs of losing business and rebuilding their networks and the potentially destructive consequences of refusing payment.
While cybercrime is the most likely threat, the statesponsored programs of China, Russia, Iran, and North Korea pose the greatest strategic threats to Canada. State-sponsored cyber activity is generally the most sophisticated threat to Canadians and Canadian organizations.
State-sponsored actors are very likely attempting to develop cyber capabilities to disrupt Canadian critical infrastructure, such as the supply of electricity, to further their goals. We judge that it is very unlikely, however, that cyber threat actors will intentionally seek to disrupt Canadian critical infrastructure and cause major damage or loss of life in the absence of international hostilities. Nevertheless, cyber threat actors may target critical Canadian organizations to collect information, pre-position for future activities, or as a form of intimidation.
State-sponsored actors will almost certainly continue to conduct commercial espionage against Canadian businesses, academia, and governments to steal Canadian intellectual property and proprietary information. We assess that these threat actors will almost certainly continue attempting to steal intellectual property related to combatting COVID-19 to support their own domestic public health responses or to profit from its illegal reproduction by their own firms. The threat of cyber espionage is almost certainly higher for Canadian organizations that operate abroad or work directly with foreign state-owned enterprises.
Online foreign influence campaigns are almost certainly ongoing and not limited to key political events like elections. Online foreign influence activities are a new normal, and adversaries seek to influence domestic events as well as impact international discourse related to current events. We assess that, relative to some other countries, Canadians are lower-priority targets for online foreign influence activity. However, Canada's media ecosystem is closely intertwined with that of the United States and other allies, which means that when their populations are targeted, Canadians become exposed to online influence as a type of collateral damage.

About this document
This document highlights the cyber threats facing individuals and organizations in Canada. It provides an update to the National Cyber Threat Assessment 2018 (NCTA 2018), with analysis of the interim years and forecasts until 2022. We recommend reading the NCTA 2020 along with the Introduction to the Cyber Threat Environment, which we have updated. This introduction provides a basic overview of cyber threat actors, their motivations, cyber tools, and an appendix of key cyber security tools and techniques referred to in this assessment.
As envisioned in the National Cyber Security Strategy, we prepared this document to help Canadians shape and sustain our nation's cyber resilience. It is only when we work together — government, the private sector, and the public — that we can build resilience to cyber threats in Canada.

Limitations
This assessment does not provide an exhaustive list of all cyber threat activity in Canada or mitigation advice. As a threat assessment, the purpose of this document is to describe and evaluate the threats facing Canada. We focus on understanding the current cyber threat environment and how threat activity can affect Canadians and Canadian organizations. General guidance can be found on the Cyber Centre's website in documents such as the Get Cyber Safe Campaign.

Sources
The key judgements in this assessment rely on reporting from multiple sources, both classified and unclassified. The judgements are based on the Cyber Centre's knowledge and expertise in cyber security. Defending the Government of Canada's information systems provides the Cyber Centre with a unique perspective to observe trends in the cyber threat environment, which also informs our assessment. CSE's foreign intelligence mandate provides us with valuable insights into adversary behaviour in cyberspace. While we must always protect classified sources and methods, we provide the reader with as much justification as possible for our judgements.
Assessment process
Our cyber threat assessments are based on an analytical process that includes evaluating the quality of available information, exploring alternative explanations, mitigating biases, and using probabilistic language. We use the terms "we assess" or "we judge" to convey an analytic assessment. We use qualifiers such as "possibly," "likely," and "very likely" to convey probability.
This threat assessment is based on information available as of 20 October 2020.
Estimative language
Technology is changing society and altering the threat landscape
Cyber threats to Canadian individuals
Fraud and extortion
Threats to privacy
Cyber threats to Canadian organizations

As we predicted in NCTA 2018, cybercrime remains the most common threat faced by Canadian organizations of all sizes. However, other cyber threat activity, such as cyber espionage, can have a greater impact. Information stolen by cyber threat actors can be held for ransom, sold, or used to gain an unfair competitive advantage. Over the past two years, targeting of industrial processes and ransomware attacks have become regular occurrences resulting in major impacts, including reputational damage, productivity loss, legal repercussions, recovery expenses, and damage to infrastructure and operations. We assess that ransomware directed against Canada in the next two years will almost certainly continue to target large enterprises and critical infrastructure providers.
Cyber threat actors also put the information held by Canadian organizations at risk, including intellectual property as well as customer and client data. The theft of this information can have both short- and long-term financial consequences for the victims, including impacts to global competitiveness and reputational damage. During the COVID-19 pandemic, state-sponsored cyber threat actors have targeted Canadian intellectual property related to combatting COVID-19, and we assess that it is almost certain that state-sponsored actors will continue to do so in order to support their own domestic public health responses or to profit from its illegal reproduction by their own firms.
Cyber threat actors also exploit trusted business relationships between Canadian organizations, target both online and inperson payment systems, exploit supply chain vulnerabilities, and take advantage of the privileged access managed service providers maintain into the networks of their clients. These activities can be used to defraud organizations, conduct ransomware attacks, or steal proprietary information or customer and client data.
Canadian organizations of all sizes, such as small- and medium-sized enterprises, municipalities, universities, and critical infrastructure providers, face a growing number of cyber threats.Endnote31
These organizations control a range of assets that are of interest to cyber threat actors, including intellectual property, financial information and payment systems, data about customers, partners and suppliers, and industrial plants and machinery. As a general rule, the more Internet-connected assets an organization has, the greater the cyber threat it faces.
Figure 4: List of Assets Owned by Organizations that can Increase Cyber Security Risk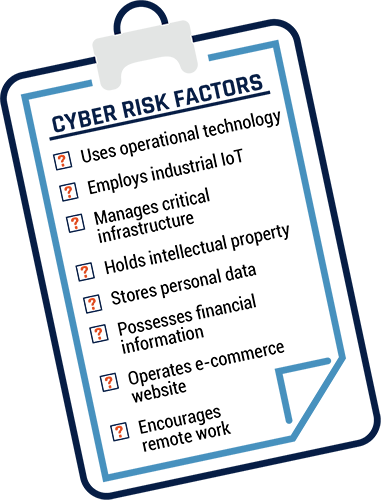 Long description

Clipboard with the following text: Cyber Risk Factors:

Uses operational technology
Employs industrial IoT
Manages critical infrastructure
Holds intellectual property
Stores personal data
Possesses financial information
Operates e-commerce website
Encourages remote work

ICS ransomware in action
Since January 2019, at least seven ransomware variants have contained instructions to terminate ICS processes.Endnote36 The impact of these attacks on ICS varies according to the specific circumstances of the industrial process and the reaction of the site staff.Endnote37 In June 2020, a car manufacturer halted production at most of its North American plants, including one in Canada, "to ensure safety" after very likely being hit by one of these ransomware variants.Endnote38


Conclusion
Useful resources