Internet use abroad
Be cautious when connecting to the internet abroad, as it can be vulnerable and exposed.
When in foreign countries, try to avoid conducting sensitive work. Assume that all network connections are being monitored. Do not use public Wi-Fi networks.
Protect your device
Mobile devices are a prime target for theft. Keep your device in your possession at all times, use password protection and minimize the amount of information you store on them. If stolen, the information contained within may be accessed and/or used for malicious purposes. Using your device, malicious actors can...
Track your location
Activate the microphone
Intercept electronic communications
Pay-per-use networks do not certify security
Always use caution when using unknown networks.
Paying for a network doesn't mean it is safe. Many paid networks are unencrypted and are accessed by multiple people. Keep your device secure by avoiding untrusted network connections.
Can you trust your connection
Encryption protects the confidentiality of data. If you are using an unencrypted connection, your information is open for all to see.
Whenever possible, ensure you use a trusted and encrypted connection to secure your internet access.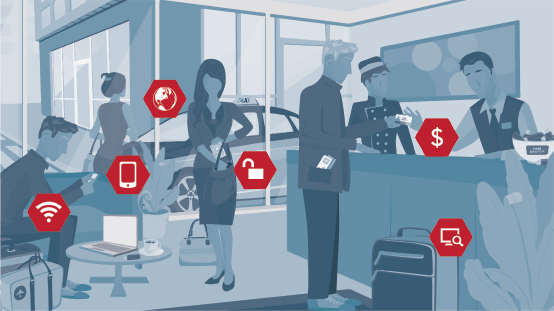 Unsecured data is vulnerable
When possible, use a Virtual Private Network (VPN) to increase the security of your connection.
Without encryption, others can access your unsecured public network and access data travelling through it. Use Virtual Private Networks (VPNs) to increase the security of your connection.
Cyber crime is a real threat
Cyber Crime is on the rise and has shown double-digit growth year after year. Every second, 18 adults become victims of a cyber crime incident.
Protect your information and understand that important tasks, such as online banking, should not be conducted on unsecured and untrusted Wi-Fi connections.
Best practices
Use a PIN or strong password to access the device
Disable features not in use such as GPS, Bluetooth or Wi-Fi
Avoid joining unknown or unsecured Wi-Fi networks, and if you must connect to a Hot Spot, set the network location to "Public"
Do not use "Remember Me" features on websites and mobile applications – always type in your password
Avoid opening files, clicking links or calling numbers contained in unsolicited text messages or e-mails
Maintain up-to-date software, including operating systems and applications
Encrypt personal or sensitive data and messages
Do important tasks, like online banking on a private or known trusted network